***UPCOMING EVENT***
Saturday March 2nd, 2024 Eetcafé Punt, Roelofarendsveen
www.facebook.com/Eetcafepunt/


Saterday November 16, 2019 De Pul, Uden
We're looking forward to perform at The Masters of Metal in De Pul in Uden, supporting the definitive last gig of our partners in crime, The Unforgiven!

October 12th, 2019 Azotod, De Meern
Thank you Azotod! We had a great time playing our Iron Maiden classics for you!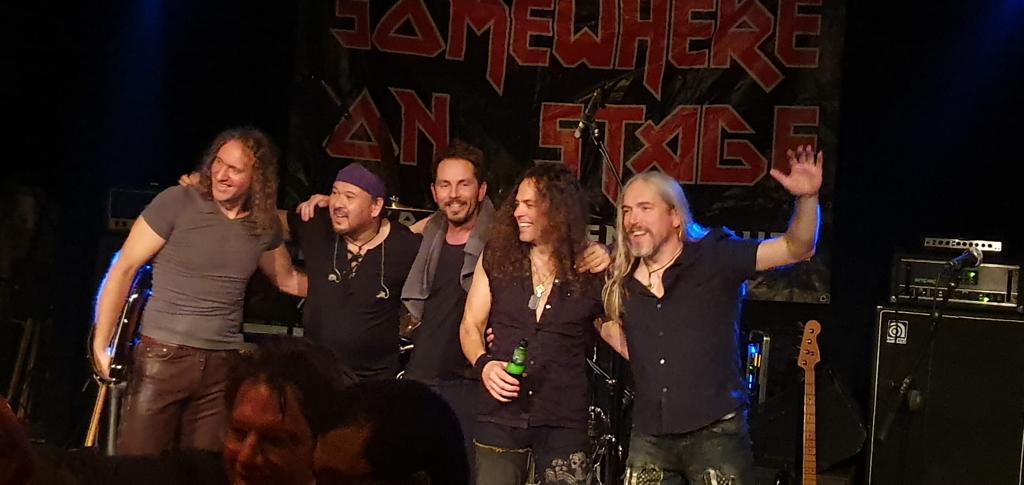 Monday June 3, 2019
New show confirmed at the Azotod in De Meern on Saturday October 12, 2019.

Monday May 14, 2019
WE ARE BACK!!
Due to some major problems with the website it was put down. So we've restored our old website from the ancient times....
Check out our gigs page for new announced show this year. Hope to see you there!



Somewhere on Stage knows how to do a show! Check out this nice VPRO 3voor12 article: Rock legendes in Vroomshoop

Saturday July 24th 2010: For these two gigs we needed the support of Martyr drummer Wilfried Broekman. For the first time in SOS history we did Germany and we like it a lot. The Reithalle (horse circuit) in Uelsen was transformed into a concert hall for the Monsters of Rock. German people knows how to rock and the facilities were great. Thanks to Akira and Mannes for the excellent breakfast and the ride in the limousine. Special thanks to Mirjam for her hospitality at the VIP area.

Friday July 9th 2010: Nice Festival in Hoeselt Belgium, has been a long while since we've played there. With Foxe, leadsinger from Sabbathizer as a special guest on stage during Wasted Years we've made the audience crazy as usual. Special thanks to Lies Brone for her great hospitality.

Saturday July 6th 2010: Very special gig in Slagharen at the Spirtitten Motorclub festival. A gig actually for our tribute colleagues Up The Irons but because of private circumstances they couldn't make it. Watch the vids on You Tube. Thanks to Joey and his performance with us live on stage.

June is going to be a quiet month but we don't care. Everybody including us are watching the World Cup. See you soon!

Saturday May 22nd 2010: Yesterday we've had a great gig in a small place in Eibergen. We didn't expect too much of it but after all it became a huge party. For the encore we've played Dio's Holy Diver as a tribute to the greatest singer in Metal all times.
Today we did the same at the headlining show at Vroomshoop Bosrock. We rocked the place and the local newspaper wrote a nice article about it:
Iron Maiden coverband sluit Legends of rock-editie af in stijl

Monday March 29th 2010: After a successful UK tour we're moving back to Oostende by ferry. The English Iron Maiden fans were very surprised to watch the skills of a Dutch Tribute. English hospitality is great, except for drinks and food. Special thanks to the crew of Hark to Towler Bury and the Bath Morecambe. Hope to see you soon again!